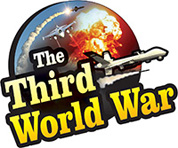 Brussels: The United States has deployed its warships in the Mediterranean Sea to retaliate against the attacks by Russia and the Syrian military on Idlib. Now 3 of NATO's warships have also reached near the Syrian coast in the eastern Mediterranean Sea. With this deployment, NATO has clearly warned Russia that it will not stay away if a conflict is sparked over the Idlib issue.
NATO, the military organisation of the United States and North Atlantic countries has increased its activities in the Mediterranean Sea. The second fleet of NATO's navy entered the Mediterranean Sea on Monday. The fleet includes Dutch frigate De Ruyter, a Canadian frigate, the Ville de Quebec, and a Greek cruiser, the Elli. No official information was released about this NATO deployment. But the NATO deployment was revealed after the captain of the Dutch frigate posted information on social media.
The Russian media have claimed that the NATO warships are steadily closing in on the Syrian border. The information that is received says that this military deployment is against the Assad regime in Syria. As per military analysts in the western countries, this military deployment is to retaliate against Syria, in case the Assad government attacked Idlib. However, there is no information about the duration of this deployment in the Mediterranean.
Two of the US warships, USS Carney and USS Ross, equipped with Tomahawk missiles have already been deployed in the Mediterranean. The strength of the US Navy is being augmented over the last one month and it is reported that the USS Porter also has reached the region, whereas, USS Newport News, a submarine equipped with Tomahawk missiles has reached the region last week. Moreover, USS Bulkeley, which is an Arleigh Burke-class destroyer in the US Navy, is the fourth warship to be deployed by the United States in the Mediterranean Sea.
Following the United States deployment in the Mediterranean over the last month, the United Kingdom and France have announced their solidarity with the United States for an action on Idlib, by sending their warships to the Mediterranean. Germany has also indicated its willingness to participate in the Idlib conflict. Following the United States and the European countries, even NATO has issued a warning to Russia, who is supporting the Assad Regime, by sending its warships to the Mediterranean Sea.
Russia also has a fleet of 30 warships in the Mediterranean and it held war exercises last week to demonstrate its strength. This had increased the tension in the region. It is also being said that NATO has issued a warning to Russia by sending its warships. There already is tension between the NATO and Russia over the military deployment in eastern Europe.