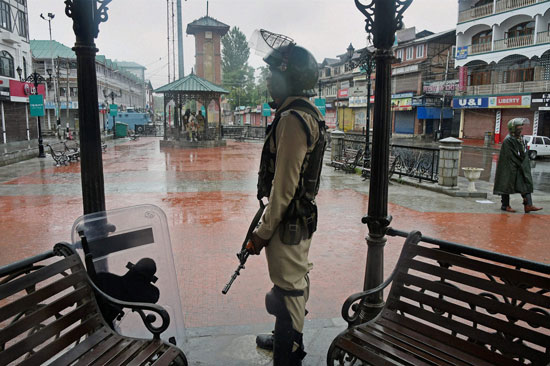 New Delhi : Separatist militants in the Kashmir valley are receiving hefty assistance from Pakistan. At the same time, infiltration attempts by Pakistan have increased significantly. The vigilant Indian Security Forces have been very successful in foiling such attempts. By the end of June this year, 79 terrorists trying to sneak in from Pakistan had been killed in encounters with the Indian Security Forces.

With plans to usurp Kashmir, Pakistan has been indulging in a proxy war against India in the guise of terrorism. Pakistani plans to facilitate the infiltration of militants in huge numbers into the Kashmir Valley have been exposed. Pakistan sponsored terror groups Lashkar-e-Taiba and Hizbul Mujahideen are geared to create violent disturbances in Kashmir. Lashkar-e-Taiba chieftain, Hafiz Saeed has ordered the terrorists who manage to infiltrate in to the valley to attack the Indian army and other security forces. With such calls for terror strikes, the peace in the valley is under threat. The security agencies work in close coordination to thwart the nefarious designs of Pakistan sponsored terrorists.

Violence erupted in the valley after Burhan Wani, the commander of the Kashmiri militant group 'Hizbul Mujahideen,' was killed on 7th July in the action by Indian security forces. During this period, Pakistani Prime Minister, Nawaz Sharif, tried to encourage the separatists and militants in the valley, claiming that one day Kashmir will be a part of Pakistan. And in sync, addressing the Kashmiri militants as freedom fighters, Lashkar-e-Taiba chief Hafiz Saeed arrogantly issued a warning about increasing infiltration into Kashmir.

The issue was raised in the Indian Parliament. The Union Minister of State for Home, Hansraj Ahir informed that there has been a spurt in infiltration attempts. The security forces have responded to this resulting in the killing of 79 terrorists till June this year. Since a large number of terrorists neutralization has taken place, the terrorist organizations based in Pakistan are now increasing their efforts to promote radicalization through vested interest groups and social media and increase the attack on the security forces in Jammu and Kashmir forcing them to retaliate and give it a shape of civil resistance," he said replying to a written question.

The Minister said there were 125 terrorist incidents in the first six months of 2016 in comparison to 76 in the corresponding period last year. Altogether 390 incidents of stone pelting took place till June 2016 in comparison to 224 in the corresponding period of 2015. There were 40 fresh recruitments of terrorists in Jammu and Kashmir in the said period in comparison to 34 till June last year.