Malta : If the US President Donald Trump does not stop giving his approval for Brexit and encouraging other European nations to leave the Union, then we too will support the USA partition, signaled the EU Chief, Jean-Claude Juncker. He will be visiting the US this month and such an indication given on this background, would prove to be interesting in the future. After the Brexit decision, talks about creating independent states of California and Texas from USA where gaining grounds in the EU.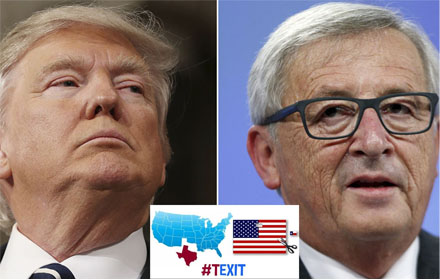 Mr. Juncker highlighted that Brexit is not the end, but a few people want it to be seen like that. Also, the newly elected US President was overjoyed about the Brexit and has even encouraged other European countries to follow suit. But if he continues to stand firm on this policy, then even the EU chief will encourage separate independent states of Ohio and Texas. He also expressed that Brexit can result in something good too.
US President Trump during his presidential election campaign and even after his election has continuously praised Brexit. He also claimed that after Brexit, the US will give priority to Britain for various business treaties. A few days back, a White House statement said that Trump claimed to be a leader/advocate of the Brexit. And it seems now that Juncker's statement was a sharp reply to Trump.
Some days ago, Britain had sent a letter formally requesting the EU to start the process of Brexit. This letter has again fueled some tension between Britain and the Union. Last month, Britain's newspaper carried out a story which claimed that six member countries of the Union were getting ready to move out of the European Union.