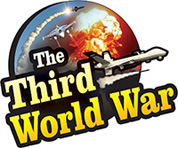 Washington: "If Russia craves for an arms race, then the United States is ever prepared for it. But Russia must keep in mind that in such a race, the United States will undoubtedly emerge a winner", warned US President Donald Trump. This warning was issued to Russian President Putin during a telephonic conversation, as reported by a private American news channel.
Vladimir Putin was re-elected as the President of Russia during the presidential elections last week. The US President, Donald Trump had called President Putin to congratulate him for his victory. President Trump's advisors had explicitly warned him against making a congratulatory call to his Russian counterpart, Vladimir Putin. Despite these warnings, President Trump went ahead with the call, causing turmoil in his close circles.
President Trump 'tweeted' after his conversation with the Russian President, quoting an improvement in the US-Russia relations. President Trump claimed that he would succeed in establishing cordial relations with Russia, where the previous United States leadership had failed. He also hinted at a future meet with Russian President Putin. It was also revealed that President Trump made a mention of a new arms race.
According to information from officials, the US news channel claimed that President Trump warned about the preparedness of the United States in the arms race, during his conversation with the Russian President. The officials have also claimed that in the occurrence of such an arms race in the future, President Trump has clearly warned President Putin that the US will undoubtedly emerge victorious. Reportedly, this warning came forth as President Trump was irked by President Putin's claims regarding Russia's advanced nuclear arsenal during his election campaign. Russia, however, has denied the claims of any such warnings by the United States President regarding an arms race.
"Russian missiles have the longest range and no country in the world is safe from them. Any anti-missile technology shall completely fail against the Russian missiles", Russian President Putin had cautioned at the beginning of this month.