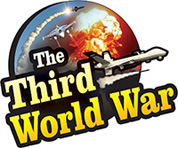 Washington: US Secretary of State Mike Pompeo issued a severe warning 'Discussions are going on with Turkey regarding the situation in northwest Syria. In these circumstances, if Turkey initiates a unilateral military action, it will have severe repercussions. Pompeo issue this warning, just before the meeting of the NATO members, in Washington. Although the Turkish Foreign Minister chose not to reply directly, he fired a salvo of criticism at the United States, saying that the United States did not a firm policy regarding Syria.
Only last week, US President Donald Trump announced that IS had been completely defeated in Syria. Before this announcement, Trump had indicated reducing the military deployment in Syria. Severe reactions had been received from the NATO countries over the US announcement. While the United States was indicating military withdrawal, Turkey was showing signs of aggressive action in Syria.
Before this, in 2016 and 2018, Turkey had carried out two independent military campaigns in Syria. In the campaigns named 'Operation Euphrates Shield' and 'Operation Olive Branch' Turkey had targeted the IS and the Kurdish organisation YPG. Even afterwards, Turkey had warned of aggressive action against the Kurdish people, inside Syria. But the United States had clearly warned Turkey not to overstep the limits, in this matter.
The United States has declared complete support for the Kurdish organisations assisting it,in the campaign against IS and have been assured of their security. It had been revealed that the United States had moved its fighter jets and helicopters near the Kurdish bases, as soon as Turkey initiated action against the Kurdish organisations. Against this background, a face-off is predicted between the United States and Turkey, over the Kurdish issue.
The warning issued by US Secretary of State Mike Pompeo to the Turkish Foreign Minister Mevlut Cavusoglu is the part of the same thing. The United States is already upset over the Turkish stand regarding the Russian missile system. The United States has cancelled supply of F-35 fighter jets to Turkey, as Turkey is firm on purchase of the Russian S-400 system. This issue has already festered the relations between the two countries, and now if Turkey unilaterally decides on military action in Syria, it will be like fuel to fire. Therefore, the US Secretary of State has openly threatened Turkey of dire consequences and has warned not to overstep its limits.