Stockholm: In the last few years the count of hardliners in Sweden has dramatically increased from hundreds to thousands and this has never happened earlier. Their network is increasing and we are facing a historic challenge, said by Mr. Ander's Thornberg, the Director General and Head of the Swedish Security Service. He also commented that the terrorist attacks have increased in the country. Four people were killed in one such attack that took place in the month of April in Sweden.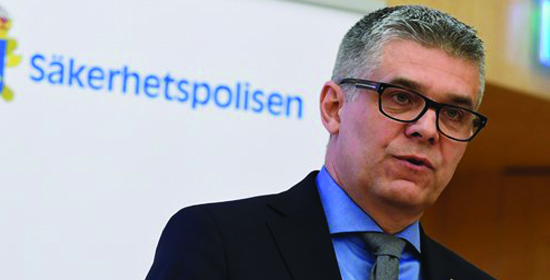 Two years back, in line with Germany, Sweden had also started to welcome migrants as per the open door policy. After that thousands of refugees entered Sweden. The migrant crowd mainly consisted of people from the Gulf and African countries, especially a large number of hardliners. In some parts of Sweden, the hardliner groups are more dominant than the Swedish locals and these groups are creating unrest. As per some reports, riots and crimes are increasing in such parts of Sweden.
The American President Mr. Donald Trump, had spoken aggressively on issues related to migrants. Mr. Trump also referred to the events that had occurred in Sweden. Post which the European and other countries had commented on Mr. Trump's statement. But various Swedish agencies had accepted that the statement made by Mr. Trump was in fact a reality. Sweden was shocked when terrorist attacks took place in April 2017.
After this attack, the Prime Minister of Sweden had to take a firm stand on not accepting migrants any more. 'Muslim brotherhood', a gulf organization is highly active in Sweden. This organization was accused of trying to develop a community based on a different culture. The same was proven based on the information given by the Security Chief of Sweden. As per various Swedish agencies, it is suspected that nearly 300 youngsters had participated in the conflict of IS (Iraq and Syria).
It is evident that Sweden is facing a new challenge due to the increase in the number of hardliners, including terrorists that are supporting such activities.
Mr. Magnus Ranstorp, Professor at the Swedish Defence University has stated that Sweden is not the only country which is facing this issue of increasing number of hardliners. Even in Britain, France and Belgium, the count of hardliners is increasing drastically and thereby it is a challenge that is being faced by all European countries.
Mr. Ranstorp has pointed out that the count of hardliners in Britain is thirty five thousand, in France seventeen thousand and in Belgium the count is eighteen thousand.