London : "Until now Britain has shown too much of tolerance towards the Islam terrorism. But the time has come to say that, it is enough!" in such words Britain's Prime Minister Theresa May had expressed her resentment over terrorist attack in London. Thereafter Britain's leaders and authorities as well, demanded aggressive measures against terrorism and extremist. This includes decision such as ban on burkha and cancellation of citizenship of people related to terrorism.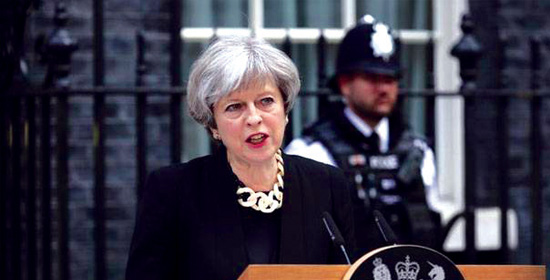 In the duration of mere four months, after the third terrorist attack, a strong nationwide reaction is been imprinted. However, Theresa May by indicating to take the combating measures, wiped out all the allegations against her. During Theresa May's tenure as the Home Secretary, there was a reduction in the number of police by (20000) twenty thousand. While setting aside this point, Theresa May claimed of having provided more powers and funds to the police.
After the London Bridge terrorist attack, Prime Minister Theresa May indicated an aggressive role against the terrorism. "In this struggle, Britain needs to take strict action. This extremism is an evil ideology which perverse the religion and the truth. Britain will be reviewing counter terrorism policies soon and will make major changes in it", claimed the Prime Minister. She also indicated the increase in magnitude of punishment to terrorism and extremist.
Along with Prime Minister May, Britain's leaders and police officials as well, have demanded accepting of crucial policies on burkha ban and cancellation of citizenship related to terrorism while assuming the combating role. After the 'COBRA Emergency Committee Meeting' chaired by Prime Minister May, wherein such demands have come forward, is informed by the concerned officers. New counter terrorism laws have been indicated, which include the provision of the cancellation of the citizenship of the suspected terrorists .
During 2006 in Britain, the demand on the ban on burkha had come forward. Now once again, the discussion is taking place after the successive terrorist attack tremors. "As of now, though it is just whispered, but once the decision is made, it will be applicable to entire Britain", claimed by the sources. France, Germany, Austria and Belgium, these European nations have taken such decision and have also started implementing it.