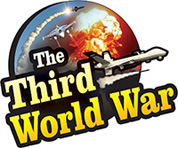 Tehran: 'Israel is in the dragon's mouth and its adversaries are much stronger than before, said Iran's Revolutionary Guards and warned Israel that its airbases were within range Iran's missiles. Commander Hossein Salami, the second in command of the Revolutionary Guard has warned Israel that it should not depend on its airbases claiming that Iran can very easily target them. Only last week, the Israeli defence ministry had released a map of the Iranian airbases in Syria. The Iranian threat is believed to be in reply to it.
Iran has built bases in Syria in view of the conflict there and these bases are being targeted by Israel. 7 Revolutionary Guard personnel were killed in the Israeli attack on the 'T-4' airbase on 9th of April. This has made Iran more aggressive and is consistently threatening to attack Israel. The threat by Commander Salami also seems to be a part of the same campaign.
'Israel should not depend on its airbases. They are within Iran's reach. Israel lives in the mouth of the dragon. Northern and Western Israel can be targeted by Iranian missiles. No matter where the Israeli army is placed in their forcibly acquired land, Iran can attack them from both sides, the east as well as the west. The Israeli government is too arrogant. Annihilation of Israel will be the only outcome if a war does spark off', threatened Commander General Salami.
In reply to the threat issued by Commander Hossein Salami, the Israeli Defence Minister Avigdor Lieberman has warned not to test Israel's resolve or that of its defence forces. Lieberman also warned that Israel was prepared for any kind of conflict.