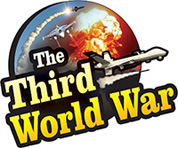 New York: The terrorist organisation IS has threatened to attack New York using sniper rifles and package bombs on the very first day of the New Year. Also, the threat was made referring to the terrorist attack perpetrated in Berlin two years ago. The terror outfit says that the attack would be carried out to avenge the action of the US military carried out at the time against the IS terrorists.
A few days ago, a group connected to IS had published a poster on social media. The poster illustrates terrorists moving in the German city of Berlin with rifles in their hands. The poster showcases the photograph of the IS attack carried out in Berlin during Christmas of 2016. Additionally, it shows an IS terrorist roaming in one of the streets of New York with the threat that reads, 'Wait for us on the New Year's parties'. It also says that New Year day will be a day of revenge for the IS.
IS has incited its supporters to take revenge by carrying out attacks in New York City, on the 1st of January 2019. The IS has said in its message, 'keep the sniper rifles, belts loaded with explosives, vehicles and parcels ready. Deliver a shocking surprise to the citizens in New York on the New Year's eve with sniper rifles along with attached silencers'. In 2016, IS spokesman Abu Muhammad Al-Adnani was killed in the US air attack. IS has incited the attacks on New York City to avenge the death of Adnani.
This threat issued online by the IS on social media is being looked at very seriously. Previously, the IS had threatened to attack the immigrants in the European countries.