Paris : The issue of Russian media's interference in French elections was brought up during the Russian President, Vladimir Putin's France tour. The newly elected French President, Emmanuel Macron strongly criticised Russian media's interference in this election, in the very presence of President Putin. While the Russian President has distinctly denied these allegations, Macron's unabashed critique of the Russian media while standing next to President Putin at a press conference, has grabbed the world's attention.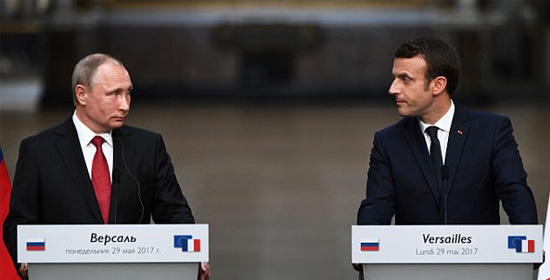 Last October, the then French President, François Hollande, had fired criticism towards Russia over Syrian crisis and had refused a red-carpet welcome to President Putin. Thus, Putin had cancelled his France tour. Since this year mark the 300th anniversary of the Russian czar, Peter the Great's visit to Versailles, Putin arrived in the country on Monday for his France tour.
Emmanuel Macron was elected as the President in the election conducted in France this month. The French President has demonstrated his views about some key issues. A few days ago, it came to light that Macron had taken a very strong stance about the unity in the European Union, fight against terrorism and the violence in Syria. At the G7 summit, Macron turning to the American President, Donald Trump for a handshake only after greeting the other world leaders had raised brows. Thus, the world had its eyes glued to the Macron-Putin meeting.
Sources have stated that President Putin and President Macron discussed varied matters during a whole 3 hour meeting. After this, a joint press conference took place. During this press conference, President Macron openly criticised interference on the part of the Russian media.
President Macron did not mince his words while aiming his criticism at the Russian media. 'The Russian media houses, Russia Today and Sputnik are agents of influence and propaganda. These media channels have spread falsehoods against me. Thus, I banned their journalists from my campaign'
While the Russian President may have avoided a rebuttal to these allegations in order to maintain decorum, he did make his stand clear while speaking about France's Opposition Leader, Marine Le Pen's visit to Russia. 'This was not Marine Le Pen's first Russia visit. This meet was not a Russian attempt to influence the French elections. Such a task is absolutely impossible. We are not children to make such unsupported allegations; we are adults who can recognize the gravity of the situation.' Putin answered Macron's contentions in these words.
Barring the media interference issue, the meet saw the French President take a stand of cooperation with Russia with respect to issues regarding Syria and Libya. Macron declared the French willingness to work together with Russia on the Syrian conflict; he stated his eagerness to join forces against the 'IS'. The French President stated that both countries agreed on holding a 'Normandy Four' meet to find a resolution for the Ukraine crisis.