Following the Orlando terror attack, the presumptive Republican Presidential candidate, Donald Trump, coming forth more aggressive than ever in his stance, has warned of a ban on immigrants entering the US. If elected, he warns of a ban on immigrants from countries that have a proven history of terrorism against the US, Europe and their allies. Earlier, Trump had caused uproar with his urge to ban Islamic immigration.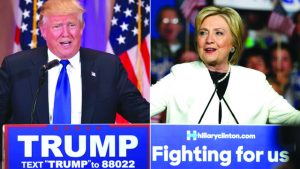 Referring to Radical Islam terrorism in a rally in New Hampshire, Trump stressed the need for reform. "The American people need to be told the truth about how radicals gain entry into their country and for that, the US needs a new leader. "What American leaders have until now, led astray by prioritizing political objectives over security issues. I will not allow that to continue", Trump asserted.
"The Islamists just must adapt to the US. They are surely aware of what is happening in the world just like they are, of the fact that the shooters of San Bernardino and Orlando terror attacks were dreadful but they did not share the information and that is precisely why America had to witness death and destruction" said Trump targeting once again, the Islamic Americans. Falling back on these facts, he called for reform in the American immigrant policy as well.
"Immigration from areas of the world that have a proven history of terrorism against the US, Europe and their allies, must be totally banned until we know how to end the threat they spell" he warned. Earlier he had referred to the migrants who had entered the US, as the 'Trojan horse".
President Obama and the former Secretary of State and the presumptive nominee of the Democratic Party were not going to make an open reference to Islamic terror, Donald Trump had said launching into an attack on them both. Following the Orlando terror shootout, Trump seems to have become more aggressive in his words against migrants and radical Islam, which fact has bolstered his support among the American people.
Meanwhile, the presumptive nominee of the Democratic Party for President, Hillary Clinton has slammed the allies of the US in the Gulf. She demanded that Saudi Arabia, Qatar, Kuwait and other countries in the Gulf crack down on their citizens supporting extremism.